河北六喜电器科技有限公司
电话:0318—8620319
传真:0318--8632678
邮箱:1052135335@qq.com
地址:迎宾南大街工业区
网址:www.hebeiliuxi.com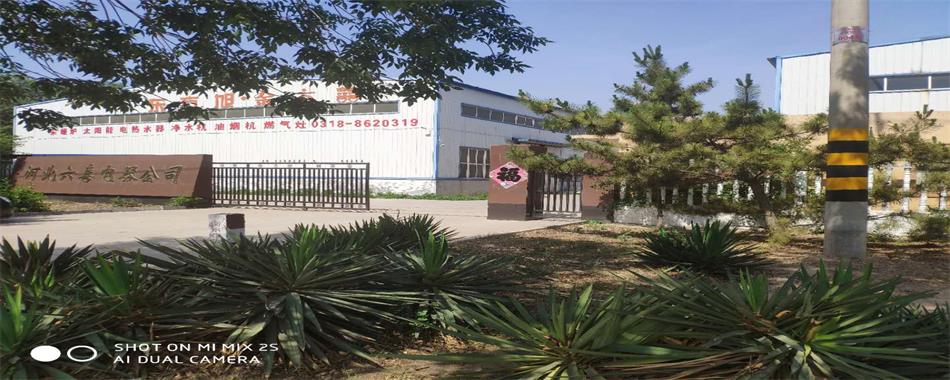 河北六喜电器科技有限公司(原冀州市东方旭太阳能有限公司)位于全国大的散热器生产基地之一——河北省冀州市,北距京九铁路京南第一大站衡水26公里。公司成立于1999年,主打自主品牌"金六喜",全面致力于太阳能热水器、净水机、吸油烟机、家用燃气灶、电热水器、燃煤气化采暖炉等厨卫电器和新型科技产品的开发与研制。公司全面通过ISO9001:2008国际质量管理体系认证,拥有专业技术人员30多名,具有强大的科研及新产品开发能力。目前公司销售网络遍及全国18个省市,设立河北、山西、陕西、内蒙古分公司4个,强而有力地保障了产品售后服务体系。公司坚持以质量求生存,以信誉求发展的方针,推进企业,贡献社会。
  公司产品在外观、导热等技术方面拥有多项知识产权专利,处于目前行业领先水平,国家能源效率检测一级产品。产品始终以高起点、高品位、高性价比为出发点,产品定位超厚选材,超前设计,超长寿命,在质量稳定、过硬的基础上追求创新,追求差异化,坚持质优价廉路线,使产品在市场竞争中永远保持新的活力。
  公司秉承天人合一、诚信为本的营商理念,求真务实、精益求精,愿与新老朋友真诚携手、与时俱进,共创美好的现代生活。
Hebei Liuxi Electrical Appliance Technology Co., Ltd. (formerly Jizhou Dongfangxu Solar Energy Co., Ltd.) is located in Jizhou City, Hebei Province, which is one of the largest radiator production bases in China. It is 26 kilometers north from Hengshui, the largest station in the south of Beijing-Kowloon Railway. Founded in 1999, the company is fully committed to the development and development of new environmental protection products such as solar water heater, water purifier, oil smoke absorber, household gas stove, electric water heater, coal-fired heating furnace and so on. The company has passed the ISO 9001:2008 international quality management system certification, has more than 30 professional and technical personnel, and has strong scientific research and new product development capabilities. At present, the company's sales network covers 18 provinces and municipalities throughout the country. Four branch companies in Hebei, Shanxi, Shaanxi and Inner Mongolia have been established, which strongly guarantees the after-sales service system of products. The company adheres to the principle of striving for survival by quality and development by reputation, promoting enterprises and contributing to society.

The company's products have a number of intellectual property patents in appearance, thermal conductivity and other technologies, and are in the leading level of the industry at present, and the first-class products of national energy efficiency testing. The product always starts from high starting point, high grade and high cost performance ratio. The product positioning is super-thick material selection, advanced design, super-long life. On the basis of stable and excellent quality, it pursues innovation, differentiation, adheres to the line of high quality and low price, so that the product will always maintain new vitality in the market competition.

The company adheres to the business philosophy of "harmony between man and nature, honesty as the foundation", seeking truth, pragmatism and excellence, and is willing to work with old and new friends sincerely and keep pace with the times to create a better modern life.